Sarah Cowley – Peace Cranes
March 30 @ 7:00 pm

-

8:30 pm

AEST
Chair:   James Halliday
Refreshments:   Jamie Knowlman
Our guest tonight will be Sarah Cowley,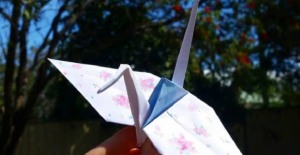 Sarah became involved in the Peace Crane Project after completing her BA Social Science at the University of Queensland. The project, which began in 2013, is an international exchange program, inviting children around the world to connect through the arts. The Project invites families, schools and community groups to fold an origami crane, dove or heart or other symbol of peace, and write a message of peace on their creation, then trade it with another participating group. The Project publishes an exchange list of participants which aids in connecting the international partnerships.
The Peace Crane Project provides children the space to express themselves creatively. It offers them the opportunity to connect with other children around the world and spread the message of peace. Students, teachers and families everywhere are encouraged to discuss peace, what it means to them and why peace is important.
The Project has grown tremendously since its inception, with a total of 2.5 million participants taking part by 2016. This year the Peace Crane Project is also collecting 1,000 cranes, each one from a different group around the world, to be displayed as an art exhibition which will tour at different locations across the globe.